The average person buys a car in a dealership about once every two to three years. That means there are many members of the car-buying public who still remember that not-too-long-ago time when the car-buying process was excruciating.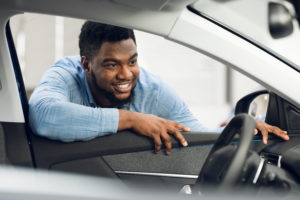 Making matters worse, once they came upon a deal they liked, buyers had to sit through the endless paperwork process, waiting for forms to print out, faxes to come from the finance company, and rubbing the muscle cramps out of their hand from the endless signatures. According to Deloitte's Global Automotive Consumer Study, what customers hate about the car-buying process is, "too much paperwork and an overall buying experience that just takes too much of their time."
Indeed, according to a U.S. Sales Satisfaction Index from J. D. Power, "it took new-car buyers an average of 3.6 hours to complete a purchase in 2017."
The Answer is Electronic Signatures
That's all over now because Dealer Sign reduces the signing ceremony for the purchase of a new car and actually makes it an enjoyable experience. Best of all, customers are happy, and happy customers are customers that return, and they also spread the story of how their car-buying experience at your dealership was painless. That means more customers.
Dealer Sign makes life easier for the dealership, too. Remember, the developers of Dealer Sign come from the car dealership industry. Dealer Sign turns your customers into your best sales tool.
Benefits of Electronic Signatures for Car Dealerships
So, why are dealerships turning to electronic signatures?
It saves time. Customers already avoid going into the dealership unless absolutely necessary. When they do come in for the signing ceremony, the fact that the dealership has now streamlined the process to save them time makes the process less stressful for them. Dealer Sign can reduce the length of the signing ceremony by one hour and 30 minutes or more.
Fast funding. The data received by the lender has already been checked for accuracy. And because it is digital, it can be loaded directly into their loan origination system. Loans are funded more quickly. It also ensures greater security around sensitive financial information.
Confidence that things are done correctly. This is an aspect the dealership can stress to the customer. Dealer Sign automatically pulls up all forms and takes you directly to where the signature or initials are needed. Nothing is missed.
Electronic Signatures Benefit the Dealership, too
There are also reasons for dealerships to like electronic signatures.
Compliance. Consumer protection laws are always changing. Dealer Sign makes it easy to ensure that everything gets reviewed and signed or initialed by the customer and that everything is compliant with state and federal laws.
Accuracy. Car purchases generate a tremendous amount of paperwork. It is easy to miss something. Unfortunately, this often requires a re-signing and the risk of losing the sale because of customer dissatisfaction.
Dealer Sign prevents this. A survey by Forrester Research found that dealerships using electronic signature systems such as Dealer Sign saw as much as an 80% reduction in errors, and increased productivity by as much as 85%. That means that on busy weekends there is a drastic reduction in the number of bone-weary customers waiting in line for their turn for the signing ceremony.
Security. Dealer Sign gives the dealership greater control over the entire process. Each package has a clear digital trail of who signed and when they did. This also means that if there is more than one signatory, all signatures can be recorded, even if the signatories are in different locations.
Lower costs. In addition to the reduction in people power created by Dealer Sign, there is also less time tracking down and storing the mountains of paperwork associated with each sale. Documents are digitally handled, delivered, stored, and easily retrieved when needed.
Ready to Get Started?
Are you ready to bring electronic signatures into your dealership? Visit our website—www.dealersign.net—and follow the link on the home page. We offer a series of packages based on the sales volume of your dealership.
Questions? Call us at (561) 631-9177.