The ability of your dealership to offer electronic signatures is a major tool for staying competitive in today's car-selling market. The customer likes the convenience and speed of the transaction.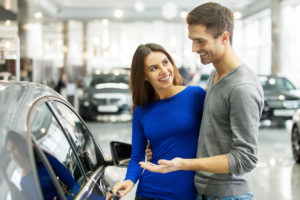 Dealer Sign's Advanced AuthTM feature also makes you look better to your financial partners. They appreciate the accuracy of the information you send them, and also because it can be easily imported into their system.
Dealer Sign also gives you peace of mind. You can verify anybody, anyplace on the globe. You have the peace of mind that they really are the ones e-signing the paperwork and that you have the proof. This is important in today's world where customers don't want to come into the dealership, or they might be out of town when their deal is approved, or the perfect car is located.
Advanced Auth is Dealer Sign's Proprietary Feature
For other e-signature vendors, their equivalent of Dealer Sign's Advanced AuthTM feature is a generic product referred to as remote identity proofing (RIDP), which is typically done through the Experian identity verification system. This draws upon the signatory's credit report to assemble a list of questions based on the information found there. The signatory will be presented these multiple-choice questions such as:
What is the name of your mortgage company?
Which of the following price ranges does your mortgage fall into?
Which of the following is not a current or previous employer?
This is called knowledge-based authentication (KBA). If the individual is who they say they are, answering these questions poses little problem. But as you can see, the system is still capable of being frauded.
Dealer Sign: Developed for the Car Dealership Business
Dealer Sign's Advanced AuthTM goes one step further in verifying identity of remote signers. This proprietary software takes the photo of the buyer's driver's license and runs the profile through the Office of Foreign Assets Control (OFAC) of the U.S. Department of Treasury, and other watchlists. We also run the profile against the deceased list (in case they took the social from a dead person). Then we match the address and name against the information on their social security file and their driver's license with the DMV.
It is only after the buyer passes successfully through this screening that Dealer Sign uses the Experian system to produce a set of knowledge-based questions for them to answer.
"Most electronic-signature vendors are generic tools," said John Cohn, vice president of sales for Dealer Sign. "They are designed for all sorts of transactions, some of which are not even financial. They are not tailored to the automotive dealership, where the majority of transactions involve some form of financing. At Dealer Sign, however, we come from the dealership business. We know that some of these off-the-shelf tools create problems for finance sources. Dealers have to exercise care when selecting an electronic signature platform."
When you use Dealer Sign and our Advanced AuthTM feature, you are going one step further to ensure you comply with red flags rules of electronic signatures and making sure you have protected yourself legally and financially.
Ready to Get Started?
Visit our website—www.dealersign.net—and follow the home page link. Dealer Sign offers a series of packages designed for the volume of your dealership. But every package gives you the assurance that your electronic signatures are verified and proved. Questions? Call us at (561) 631-9177.
Remember, we come from the car dealership industry. We know how to make your life easy and your customers happy.