Many of Florida's 870 car dealerships are using electronic signature services from Dealer Sign as they discover that the Florida-based firm meets all the requirements of the Florida Highway Safety and Motor Vehicle Department (FLHSMV).
Dealer Sign Includes Electronic Attestation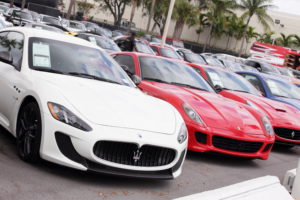 The below Florida State forms are accepted by Florida FLHSMV as long as they are submitted with an e-signature attestation, a feature that is standard in every package offered by Dealer Sign. Dealers that use Dealer Sign's electronic signing capabilities don't even have to think about including the attestation form in the electronic package they submit to the FLHSMV. It is automatically in the online package, included along with all other forms.
FLHSMV now accepts electronic versions of the title application (HSMV 82040), duplicate title application (HSMV 82101), the odometer disclosure statement (HSMV 82993), the motor vehicle reassignment supplement (HSMV 82994), and the motor vehicle power of attorney/odometer disclosure forms (HSMV 82995) used to make odometer disclosures submitted by dealers and manufacturers. Dealer Sign provides this attestation as an electronic form in the document management system.
Dealer Sign Offers a Complete Package
Dealer Sign is an electronic signature system developed for car dealerships. The software platform combines all of the documents associated with a new or used car sale into one online electronic file, making for a quick and flawless signing ceremony. Dealer Sign features include a customized content management system, custom forms, email and texting for signatures, two-factor authentication, and advanced authorization of remote identity verification.
Dealer Sign reduces the signing ceremony by as much as an hour and 30 minutes in length, eliminates costly mistakes, and increases the efficiency of the signing ceremony by as much as 85%. This last feature is handy for those busy weekends when buyers are standing in line in the hallways or cooling their heels in an empty office, waiting for their turn to review and sign the document package for their car purchase.
Start with Dealer Sign Today
Dealer Sign has streamlined the e-signature process for buying cars from the dealership. They can do this because their electronic system was designed by people who have worked at car dealerships and know every aspect of the signing ceremony.
Visit the Dealer Sign Website—www.dealersign.net—and follow the home page link. Dealer Sign offers a series of packages designed for the sales volume of your dealership. Questions? Call us at (561) 631-9177.